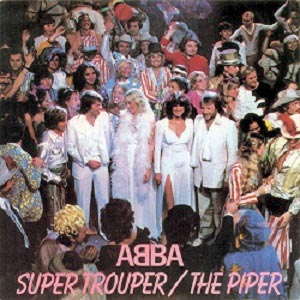 "Super Trouper" is a song by the Swedish pop group ABBA. It was released in November 1980 and was released as the third (out of six) single off their album of the same name. The song was a commercial success, reaching the top 10 in several countries, including #1 in the UK, Spain and Germany.
"Super Trouper" is a upbeat pop song that features a catchy melody and upbeat rhythm. The song's lyrics describe the emotions of someone who is trying to find their way back to happiness after a period of sadness. Despite its melancholic subject matter, the song has a positive energy and is often considered one of ABBA's most uplifting songs.
ABBA (Agnetha Fältskog, Björn Ulvaeus, Benny Andersson and Anni-Frid Lyngstad) was a Swedish pop group that was active from the 1970s to the early 1980s. They are one of the best-selling music artists of all time and are known for their catchy pop tunes and bright, energetic performances. Over the course of their career, ABBA had numerous hit songs, including "Dancing Queen" and "Mamma Mia". "Super Trouper" is considered one of their classic songs and is often regarded as one of the best pop songs of the 1980s.
Abba – Super Trouper – Lyrics