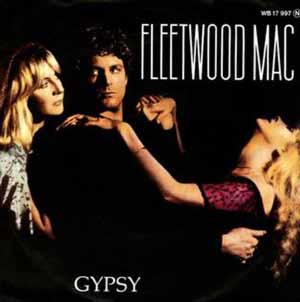 The song was written by Stevie Nicks, the band's lead vocalist. The earliest demo recordings were made in early 1980 with Tom Moncrieff for possible inclusion on her debut solo album "Bella Donna". The Fleetwood Mac's single was released in September 1982 as the second single from their album "Mirage" with "Cool Water" on the B-side.
"Gypsy" is a mid-tempo ballad that features Nicks' distinctive vocals and a prominent guitar riff. The lyrics of the song are autobiographical, with Nicks singing about her own experiences as a young woman chasing her dreams and searching for a sense of belonging. The chorus of the song is particularly memorable, with Nicks singing "So I'm back to the velvet underground / Back to the floor that I love / To a room with some lace and paper flowers / Back to the gypsy that I was."
The song was a commercial success, reaching #12 on the US Billboard Hot 100 chart and becoming one of Fleetwood Mac's most enduring hits. The music video for "Gypsy" features Nicks performing the song in various settings, including on a deserted beach and in front of a wall of mirrors. The video for the song, directed by Russell Mulcahy, was the highest-budget music video ever produced at the time.
Fleetwood Mac – Gypsy – Lyrics