NUMBER 7: PRINCE AND THE REVOLUTION – PURPLE RAIN
U.S. Music Charts – Best-selling Albums 1980 – 1989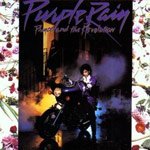 Prince's sixth studio album was released on June 25, 1984. All the songs were written by Prince, except "Computer Blue" (by Prince, John L. Nelson, Wendy Melvoin, Lisa Coleman, Matthew Robert Fink). The album produced five singles: "When Doves Cry" (released May 16, 1984),  "Let's Go Crazy" (July 18, 1984), "Purple Rain" (September 26, 1984), "I Would Die 4 U" (November 28, 1984), and "Take Me with U" (January 25, 1985).  Prince and the Revolution won a 1984 Grammy Award for Purple Rain, for Best Rock Vocal Performance by a Duo or Group with Vocal and the "Purple Rain" album was nominated for Album of the Year. The album topped the album charts in the United States, Australia, Canada and the Netherlands.
NUMBER 6 >>
Prince – Purple Rain – Track listing
1 Let's Go Crazy
2 Take Me with U
3 The Beautiful Ones
4 Computer Blue
5 Darling Nikki
7 I Would Die 4 U
8 Baby I'm a Star
You may also like: 80's Best-selling albums in the U.K.