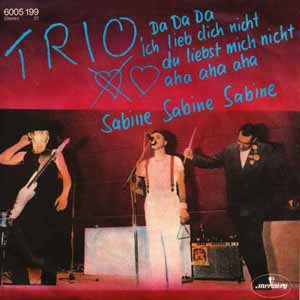 Trio – Da Da Da – Official Music Video.
The song was written by band members Stephan Remmler and Gert 'Kralle' Krawinkel. The song was released in English ("Da Da Da I Don't Love You You Don't Love Me Aha Aha Aha"), German ("Da Da Da ich lieb dich nicht du liebst mich nicht aha aha aha") and Spanish version ("Da Da Da No Te Quiero,No Me Quieres Aha Aha Aha!)". It was also covered in French by project called "Zam" (Da, Da, Da Je T'Aime Pas, Tu M'Aimes Pas).
Original version was released a single from the Trio's album "Live Im Frühjahr 82". The single hit number 1 spot in South Africa, Austria, New Zealand and Switzerland. It also peaked at number 2 in Germany and in the UK official single chart.
Trio – Da Da Da – Lyrics