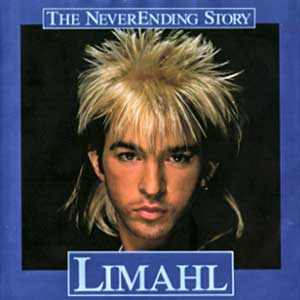 Limahl – The NeverEnding Story – Official Music Video.
The song was composed by Giorgio Moroder with lyrics by Keith Forsey. It appears on the second (and later) release of Limahl's 1984 debut solo album "Don't Suppose" (it replaced track no. 5: 'The Greenhouse Effect'). The single hit number 1 spot on the singles charts in Sweden, Spain, Norway and Japan, reached number 2 in Germany and Italy, #3 in Canada and #4 in the U.K. The song featured the vocals by American singer Beth Anderson,
As a reference to the film and its title, "NeverEnding Story" has no distinctive beginning, nor an end: the song not only fades out, but also fades in.
Limahl – The NeverEnding Story – Lyrics