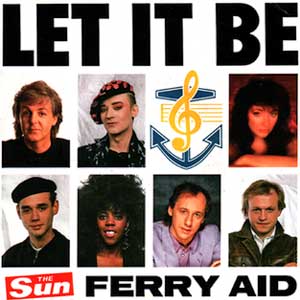 Ferry Aid – Let It Be – Official Music Video.
"Let It Be" was written by Lennon and McCartney and recorded by The Beatles in 1969. The Ferry Aid cover was released in 1987 following the Zeebrugge Disaster. All proceeds from sales of the single were donated to the charity set up in the aftermath of the  capsizing of the MS Herald of Free Enterprise ferry, which killed 193 passengers and crew. It reached number 1 on the official UK Singles Chart, in Switzerland and Norway.
Performers: Paul McCartney, Boy George, Keren Woodward, Nick Kamen, Paul King, Mark King, Jaki Graham, Taffy, Mark Knopfler, Andy Bell, Pepsi & Shirlie, Mel & Kim, Gary Moore, Kim Wilde, Nik Kershaw, Edwin Starr, Ben Volpeliere-Pierrot, Ruby Turner and Kate Bush.
Ferry Aid – Let It Be – Lyrics