NUMBER 8: QUEEN – GREATEST HITS
German Music Charts – Best-selling Albums 1980 – 1989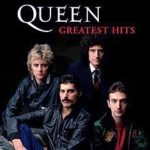 A compilation album by the British rock band Queen consisting of band's best-selling singles was released in October 1981. The album spent more than 700 weeks in the UK Charts, and is the best-selling album of all time in the UK with more than 6 million copies there. It is certified 8x Platinum in the U.S., reached number 1 on the charts in Germany, New Zealand, Austria, Nehterlands… Exactly ten years later "Gratest hits II" compilation was released. 
NUMBER 7 >>
Greatest Hits – Track listing
Bohemian Rhapsody
Killer Queen
Fat Bottomed Girls
Bicycle Race
You're My Best Friend
Don't Stop Me Now
Save Me
Somebody to Love
Now I'm Here0
Good Old-Fashioned Lover Boy
Play the Game
Seven Seas of Rhye
We Will Rock You
We Are the Champions
You may also like: 80's Best-selling albums in the U.K.