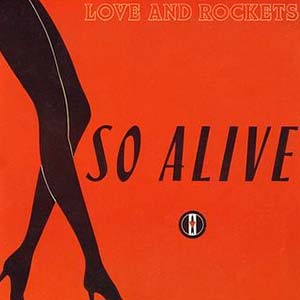 "So Alive" is a song by the British alternative rock band Love and Rockets, released in 1989 as the lead single from their self-titled album, "Love and Rockets." The band was formed in 1985 and consisted of former members of the gothic rock band Bauhaus, including Daniel Ash, David J, and Kevin Haskins. "So Alive" was written by the band members. It is an alternative rock and post-punk song with a catchy and upbeat sound. It features prominent guitar riffs, rhythmic basslines, and a driving drumbeat that give the song a danceable and energetic vibe. The song's lyrics explore themes of passion, love, and the experience of feeling truly alive.
Upon its release, "So Alive" became one of Love and Rockets' most successful and well-known songs. The track achieved significant commercial success, reaching No. 1 in Canada and charted within the top 30 in the United States, Australia, and New Zealand. In the US, it topped the Billboard Modern Rock Tracks chart for five weeks and was ranked No. 1 on that listing's year-end chart for 1989. The success of "So Alive" helped propel the album "Love and Rockets" to commercial success, introducing the band to a wider audience and solidifying their place in the alternative rock and post-punk music scenes of the late 1980s and early 1990s.
The song's popularity has endured over the years, becoming a staple in Love and Rockets' live performances and garnering continued recognition as one of their signature tracks. "So Alive" is often celebrated for its infectious energy and memorable hooks, making it a favorite among fans of alternative and post-punk music. Love and Rockets continued to release music and perform throughout the years, exploring different styles and influences. However, "So Alive" remains one of their most celebrated and enduring songs, capturing the spirit of the alternative rock era and leaving a lasting impression on the music landscape.
Love and Rockets – So Alive – Lyrics